Even though many people outside of Virginia have heard of Chesapeake – and those who have think I come from a Bay, not a city- my hometown of Chesapeake, VA does have its claims to fame. The Hampton Roads/Tidewater/Norfolk,Va Beach, Hampton/757/Seven Cities area even lays claim to a few great athletes. The Virginian Pilot put together a list of the top 50 athletes from the region. Chesapeake is home to quite a few of them. Notably we have representatives in each major sport. You can check out the whole list here. The top player in each sport from Chesapeake is listed below.
Since VA doesn't have any major sports teams – don't get me started on claiming DC teams as VA teams, its nice to show some love for athletes who have found their way to the top.  You would also be surprised at some of the names that pop up if you expand outside of Chesapeake to the entire southeast VA region. Allen Iverson, Micheal Vick, Plaxico Burress just to name a few!
Basketball – Alonzo Mourning
"Resilience" is the title of Mourning's recently released memoir. "Denial" was what he served up on the court. Blessed with length, at 6-foot-10, Mourning's timing, tenacity and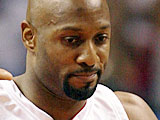 instincts made him one of the most feared shot blockers the game has seen. A phenom at Indian River High, he almost made the Olympic team at 18 in 1988, before heading off to Georgetown. There, he was a three-time All-American and set an NCAA record for blocks in a career. The No. 2 pick in the 1992 NBA Draft, Mourning was a tireless physical marvel and one of the NBA's top big men for eight years with Charlotte and Miami until kidney disease sidelined him in 2001. Mourning continued playing, even making the All-Star game in 2002. His health worsened and he retired in 2003, when he underwent a kidney transplant. But he was back within a year and eventually returned to Miami, where he was a reserve on the Heat's 2006 championship team. Still not ruling out another comeback while rehabilitating an injured knee this season, Mourning is heavily involved in philanthropic work, including raising money for kidney research.
Alonzo Mourning went to my high school. Go Braves! I'm pretty sure his picture is still hanging around there somewhere.
A complete package of speed, smarts and intimidation, Easley modernized the safety position in the NFL. He hit like a linebacker but could cover like a cornerback . Easley made the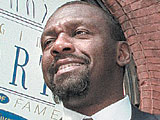 Pro Bowl five times in his seven-year career and was AFC Defensive Rookie of the Year in 1981. He led the NFL in interceptions with 10 in 1984, returned two for touchdowns and was chosen as NFL Defensive Player of the Year. His career was cut short after the 1987 season, when he was diagnosed with kidney disease. Even if he had never played a minute of pro ball, Easley's status as one of the greatest college players ever would be secure. At UCLA, he became the first player in Pac-10 history to make all-conference four times. A multisport star at Oscar Smith, Easley received basketball scholarship offers from ACC and Big Ten schools. The Chicago Bulls even drafted him in the 10th round in 1981.
Baseball had Cal Ripken, and before him, Lou Gehrig. NASCAR's "Ironman" is Rudd, who started a record 788 consecutive races from 1981 to 2005. He won 23 races on NASCAR's top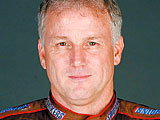 circuit in his career and finished second in the points standings in 1991. Consistency was his hallmark, though. He won at least one race every season from 1983 to 1998, and finished in the top 10 in 374 of his 906 career starts. What lengths did Rudd go to avoid missing a race? After crashing at the Busch Clash at Daytona in 1984, Rudd's eyes were swollen to slits and closed completely in turns during practice. So Rudd duct-taped them open and raced in the Daytona 500. He retired after the 2005 with $36 million in career winnings and a place as one of the sport's top 50 drivers of all time – a long way from his humble beginnings racing Go Karts locally.
Let's take stock here. In 4½ major league seasons, Wright has hit 130 home runs, driven in at least 100 runs four times, appeared in three All-Star games,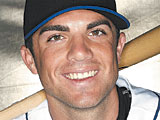 won two Gold Gloves and two Silver Slugger awards at third base and compiled a career average of .309. Any questions? Or can we go ahead and call Wright, of the New York Mets, the best baseball player the area has ever produced? And to think he turned 26 just last week. At his age, Wright seems destined to get nothing but better, eclipsing even the high hopes the Mets had for him when they made him a supplemental first-round pick – No. 38 overall – out of Hickory High in 2001. Wright passed through his home turf on the way up in 2004, playing 31 games for the Norfolk Tides. It was a pit stop on an express trip to the big leagues, but Wright has stayed part of the community here while also becoming a New York sports icon on par with the likes of Derek Jeter, Eli Manning and Brett Favre.
Also, I was never a big baseball fan. We have a local team, the Norfolk Tides, who I used to go to fairly often and really enjoyed. The Mets used to own them, and since my hometwon boy D-Wright went up there, and a certain overzelaous two roommates of mine were fans of the Mets, I've become a sort of converted Met Fan.